Ad blocker interference detected!
Wikia is a free-to-use site that makes money from advertising. We have a modified experience for viewers using ad blockers

Wikia is not accessible if you've made further modifications. Remove the custom ad blocker rule(s) and the page will load as expected.
Daroach did not originate from fanon, and more information can be found on their respective wiki(s). You may read more about it on the following wiki(s):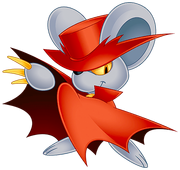 Daroach is Kirby's friend and rival. He first appeared in Kirby: Squeak Squad, where he was the leader of the Squeak Squad. In the beginning of the game, he accidentally steals Kirby's cake, which Kirby goes on a mission to get back, while Daroach was really looking for a chest that contained ultimate power. He is like Meta-Knight in that he is sometimes a villain.
Gallery