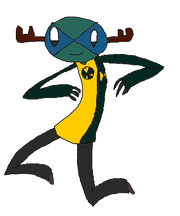 Darkclaw is a character in the Doodleland series. He is a blacksmith/engineer. He wears an outfit that matches his face, and has two moose like antlers. The outfit has been switched out to a more traditonal hoodie and t-shirt, although remenants of his original design still appear in some outfits. The original outfit was revealed to be a military outfit that Darkclaw's species wore during a war.
He is shown to have good engineering skills and strength, but poor jumping and speed. He also can reverse engineer nearly everything within short amounts of time.
Characteristics and personal life
Edit
Darkclaw is good-natured and very leaned back in his work. He never finds reason to fight, although there have been exceptions. He always tries a find way to help others, even if it's deemed unnecessary by many.
Darkclaw lives in a rather shabby and small home, always filled with some kind of machine. He shares the home with Zak, until the comics, which Zak got his own apartment.
Darkclaw also has two mooselike antlers, a trait carried from his father.
Backstory
Edit
Darkclaw was originally from a planet called Renicar. He was drafted into a war from another alien race; however he decided to back off from the war.
Powers and Abilites
Edit
Although he is over-shadowed by his best friend Zak, Darkclaw has shown that he is stronger as well as a brilliant strategist. He also is good at his job as a engineer, making amazing inventions such as time machines and jetpacks. His claws can also be used to climb buildings and to go up walls.
While having no special powers, he uses his strengths to his advantages.
Appearances
Edit
He appears in the Doodleland series as a main character. His roles are mainly minimal in the series, but appears to help out sometimes.