DK Temple is a default stadium in the game Mario Rugby. It is home to Donkey Kong.
Description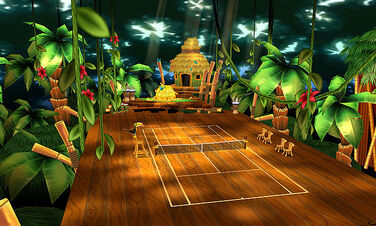 The Stadium is a wood type and is located in the heart of DK Jungle. The stadium has many hanging vines that line the sides and small fountains in the corners. The course is full of Tiki Goon's that walk through the stage and many other Tiki's watch from the stands.
Ad blocker interference detected!
Wikia is a free-to-use site that makes money from advertising. We have a modified experience for viewers using ad blockers

Wikia is not accessible if you've made further modifications. Remove the custom ad blocker rule(s) and the page will load as expected.