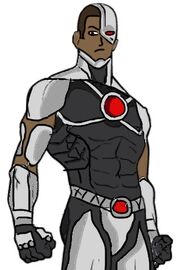 Cyborg is a fictional DC character.
Appearances
Justice: Apocalypse
Cyborg's armor was badly damaged and desperately needed repairs. Luckily, for him, Lex Luthor was more than willing to help in redemption. Victor is now equipped with more high-tech armor than ever.
Cartoon All-Star Rumble
Cyborg will appear in the upcoming fighting game Cartoon All-Star Rumble as a secret character, however rather than representing the Justice League Universe, he will instead represent the Teen Titans Universe, and will use his design from said series.
Gallery