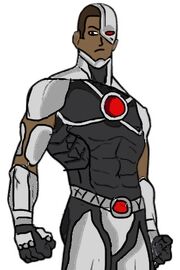 Cyborg is a fictional DC character.
Appearances
Justice: Apocalypse
Cyborg's armor was badly damaged and desperately needed repairs. Luckily, for him, Lex Luthor was more than willing to help in redemption. Victor is now equipped with more high-tech armor than ever.
Cartoon All-Star Rumble
Cyborg will appear in the upcoming fighting game Cartoon All-Star Rumble as a secret character, however rather than representing the Justice League Universe, he will instead represent the Teen Titans Universe, and will use his design from said series.
Gallery
Ad blocker interference detected!
Wikia is a free-to-use site that makes money from advertising. We have a modified experience for viewers using ad blockers

Wikia is not accessible if you've made further modifications. Remove the custom ad blocker rule(s) and the page will load as expected.