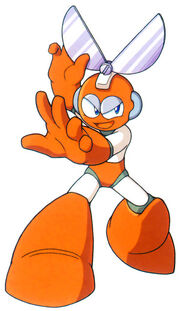 Cut Man was the first Robot Master made in the game Mega Man. He has since made appearances in other games.
Cut Man is the first, third, fifth, and seventh Grand Star boss in Super Mario Galaxy 3: Star Festival. His motives are unknown.

Cut Man is one of the thousands of characters to appear in this 2D action battle royale. In the game his character is of the Scrapper class, able to utilize his Rolling Cutters, which move in an arc before returning to him. He can also fire energy projectiles and summon various robots which appeared in his Classic stages: These robots are a Beak, Big Eye, Blader, Cutting Wheel, Flea, Flying Shell, Octopus Battery, Screw Bomber, Sniper Joe, Spine and Super Cutter.
Ad blocker interference detected!
Wikia is a free-to-use site that makes money from advertising. We have a modified experience for viewers using ad blockers

Wikia is not accessible if you've made further modifications. Remove the custom ad blocker rule(s) and the page will load as expected.