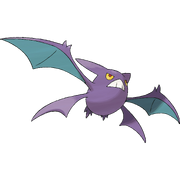 Crobat is a dual Poison/Flying-type Pokémon species that is the final evolution of Zubat, and evolves from Golbat. Crobat's mouth is smaller in comparison to Golbat's, and it always seems to be showing. It flies much faster than it's predecessor. It is a nocturnal Generation II Pokémon.
Ad blocker interference detected!
Wikia is a free-to-use site that makes money from advertising. We have a modified experience for viewers using ad blockers

Wikia is not accessible if you've made further modifications. Remove the custom ad blocker rule(s) and the page will load as expected.