Cream the Rabbit
Comments

14
18,015pages on
this wiki
Cream the Rabbit

Current Age
6
Gender
Female
Living Town
Station Square
Class
Sidekick
Main Weapon(s)
Cheese the Chao
Main Element(s)
Normal
Vulnerable to
Anything scary
First Appearance
Sonic Advance 2
Latest Appearance
Sonic Generations
Current Status(es)
Alive
Main Ability/ies
Flight with long ears
Using Cheese the Chao
Relative(s)
Vanilla the Rabbit (mother)
Cream the Rabbit is a character in the Sonic series. Cream carries her best friend Cheese the Chao with her. She lives with Vanilla, her mother. Cream is the youngest member of the Sonic series at just 6 years old and perhaps owing to this she is the nicest and most peaceful of the Sonic gang. She likes to hang out with Amy and Big. She is very easy to scare, and loves to play anything safe. Cream may not play in the olympics, but she's the one who calls "out" when someone gets a foul. Cream is also a "fly" type in Sonic Heroes and in the Sonic Riders games.
Appearances
Edit
Dodgeball
Edit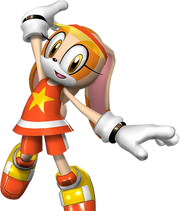 Cream is set to appear in Nintendo Plays: Dodgeball!
Super Sonic Smash Bros Movelist
Edit
Standard-Ear Hit:Cream slaps opponents with her ears.
Side-Cheese,Get 'im!:Cream asks for Cheese's help and Cheese attacks the nearest opponent.
Up-Cheer:Cream does a special cheer which propels her upwards.
Down-Sob:Cream begins to cry and her tears make people slip.
Final Smash-Cream and Cheese Dynamic Duo!: Cream and Cheese fly around damaging everyone they touch.

Cream is set to be a playable character in Paper Sonic.
Cream makes an appearance in Sonic Heroes 2 as part of Team Rose.