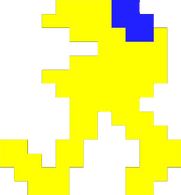 Crazy Otto is an mysterious fellow. Nobody knows his real intention or existence. Perhaps he is an "vacuum" to clean up "messes".
History
Crazy Otto was a Pac-Man hack made by two students. They added four new mazes instead of the usual one maze. The ghost's behaviors were changed to become more random, and the sprites were changed. Thus, Pac-Man became Crazy Otto. The Ghosts became circles with legs and a face. The two students eventually bought a company and started to sell Crazy Otto machines. Pac-Man's creators called them to court, and after court, Crazy Otto became Mrs. Pac-Man. However, Crazy Otto was forgotten by many, and soon, he developed a mind of his own. He escaped out of one of the machines, and began to eat people alive. The government tried to take him down, but he escaped out of Area 51 easily. He cannot be stopped. To this day, nobody knows where he is, or when he'll strike.
Other Appearances
He appears as a cameo in Worlds of Creation, as a goal of one of the missions.
Doodleland Wars 3
He appeared as a secondary villain. He used his powers to turn things 8-Bit, not eating people. It is unclear about how he died, and maybe, just maybe if he is alive.
Gallery
Ad blocker interference detected!
Wikia is a free-to-use site that makes money from advertising. We have a modified experience for viewers using ad blockers

Wikia is not accessible if you've made further modifications. Remove the custom ad blocker rule(s) and the page will load as expected.