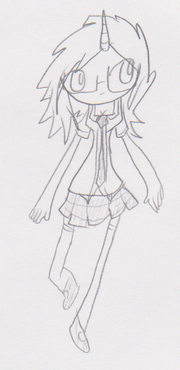 Constant was a character created and was designed by Sorastitch. She is a uni-succubus, and first appeared in The Adventures of Ismail.
Design
Constant has blond, flowing hair and has a pair of glasses. She also has a unicorn horn parting her hair. She wears a secetary outfit, with deattached sleeves. She also wears striped stocks and high heels.
Other than her horn, she seems to have nothing resembling a succubus. However, she has been shown to have grown wings and fangs.
Personality
In her debut episode, she was shown to be rather flirtaous and somewhat annoying. She also is rather clingly to relationships.
Gallery