Cold War
Developer(s)
Pokeytech
Publisher(s)
Platform(s)
Release Date(s)
2016
Mode(s)
1 Player, 2-4 Players
Genre(s)
RTS/Tower Defense/RPG
Cold War is a game for the Pokeytech Pataton. Taking place in the region of Irdlirvirisissong, the player controls a young girl named Siku who must defend her home from various frostbitten fiends.
Gameplay
Section in progress
Story
Section in progress
Development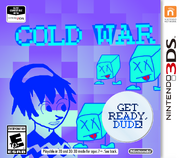 The game was originally going to be released for the Nintendo 3DS with a rating of E10+ from the ESRB. However, when the Pataton was conceived development for Cold War moved to the new machine. The ESRB rating was withheld in accordance with their policy regarding Pataton titles.
Trivia
It is unknown how much the game has in common with the actual Cold War.
Ad blocker interference detected!
Wikia is a free-to-use site that makes money from advertising. We have a modified experience for viewers using ad blockers

Wikia is not accessible if you've made further modifications. Remove the custom ad blocker rule(s) and the page will load as expected.