Coin exists, and it can be found in real encyclopedias. You may read more about it here: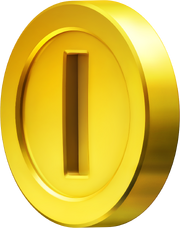 Coins (also called Gold Coins, or Mushroom Coins in the Beanbean Kingdom) are collectibles in the Mario series. They are found throughout every level in many Mario games and 100 of them will get Mario a 1-Up. After 100 have been collected, the Coin count returns to zero. Coins come in many different colors, such as red, blue, and even purple. They can be found in ? Blocks or regular Brick Blocks. There are blocks called Coin Blocks that contain many Coins, there is also a Coin Block called a Gold Block which Mario can wear on his Head which will make Coins come out from every movement. If Mario is wearing the gold block and hits another gold block coins will rain out from the gold block. In Super Mario Galaxy coin can also be hid in bushes.
There are many types of Coins, here is a list of different coins.