Clover & Rose
Developer(s)
Fandraxonian Enterprises
Publisher(s)
Fandraxonian Enterprises
Platform(s)
Wii U
Age Rating(s)
E for Everyone
Genre(s)
Adventure/Puzzle
Series
BowieQuest
Media Included
Wii U Optical Disc
Clover & Rose
is a spin-off game of the canon 
BowieQuest series
.  Developed by
Fandraxonian Enterprises
, Clover & Rose is an adventure/puzzle game for the
Wii U
system.  It features two young teddy bears, Clover and Rose, as they attempt to rid the world of the Blackfire King, and later on the Blackfire Virus, a mutated lifeform that strangles its foes in fear and hatred.
Gameplay
You start in a level, and attempt to climb your way to the top.  There are many objects that you can use and there are also many obstacles that attempt to be in your way.  You can use ladders, floating platforms, launch pads, etc.  You are also required to think outside the box and even use your partner to make it up top.
Controls
Control Pad to move/select
A button to jump/confirm
B button to attack/cancel (hold to run)
X button to use partner
Y button to switch partner
Start to pause
Characters
Clover
Clover is one of the game's main protagonists, alongside Rose.  He is the strength of the two and can break through weak walls and can toss Rose to other areas with great force.  He's a bit more stern than Rose but is still friendly none the less.  His element is sand, and when he runs, a trail of sand follows.  At full speed he can whip up small sandstorms.
Rose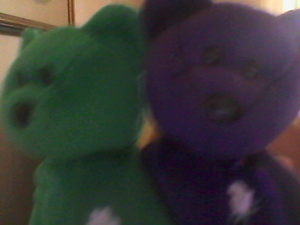 Rose is one of the game's protagonists, alongside Clover.  She is the brains and speed of the two and can run across water with great grace.  She can spin herself and Clover into small crevices and she is capable of walking on the ceiling.  She is very friendly and is very shy.  Her element is fear, which she can use to frighten her enemies.  This activates by running at full speed, and a ghostly trail follows her as she does. 
Blackfire King
The main antagonist of the game.  After learning that Clover and Rose plan to overthrow him and replace him with someone who isn't a tyrant, he vows to destroy them before the locals are convinced that he is a tyrant.  He then sets every obstacle to come their way.  However, he was unaware that he carried a new virus known as the Blackfire Virus, and unwittingly spreads it.
Stages
Enemies
G3N3RIK Enemy Set
G3N3RIK-01: They like to wait for the player to come around, then slam into them. To defeat them, their bodies must be hit with good force.
G3N3RIK-02: They are improved versions of 01, they like to patrol a certain area, then attack the player from any direction they possibly can. They can only go straight, however.
G3N3RIK-03: They patrol a certain area, then stalk the player until defeated or if the player makes it to an area they can't fit through.
G3N3RIK-04: Ghost like versions of 03 that only last in the final levels. They follow the player until said player makes it to the next area of a level. They cannot be defeated, and this is their final version.
WH1PP3RZNVP3R Enemy Set
WH1PP3RZNVP3R-01: Generally, these enemies resemble cowboys. They toss ropes and attempt to capture the player and strangle them with ropes. However, the ropes are slow.
WH1PP3RZNVP3R-02: They are improved versions of 01, their ropes are way faster, and they also take a green coloring. This is their final version.
SVNDW1CH Enemy Set
SVNDW1CH-01: These enemies try to clamp the opponent between two sets of teeth, which are disguised as bread slices. They can be defeated by stepping on the top slice.
SVNDW1CH-02: Now they are invincible and must be avoided at all costs. Be aware!
SVNDW1CH-03: They're now five times as large, but they're no longer invincible! Enough presses to the top slice should defeat them. They behave like SVNDW1CH-01.
Bosses
Soundtrack
Stage and Boss music lie in the respective sections of Stages and Bosses.
Trivia
Chronologically, this game takes place before the rest of the BowieQuest series.