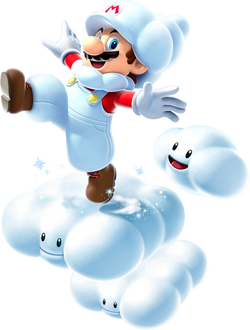 Cloud Mario is an ability usable by Mario in Super Mario Galaxy 2, accessible via the Cloud Flower. Cloud Mario can create up to three clouds by performing a Star Spin; these clouds act as small platforms that disappear after a short time. Every time Mario summons a cloud platform, one of the three small clouds that follow him will disappear. Once all three clouds are used, Mario will not revert back into Super Mario but will need to grab another Cloud Flower in order to allow him to create more.
Interestingly, while Mario can not stand on the clouds summoned by Cloud Mario unless under the effects of the power-up, enemies such as Goombas can. Coins may also remain on one of Cloud Mario's clouds.
Appearances
Cloud Mario will return in Super Mario Galaxy 2.5.
Cloud Mario appears as a trophy in Jake's Super Smash Bros..
Trophy Description
In a platforming game like Super Mario Galaxy 2, the ability to create platforms is certainly a very useful power. When Mario transforms into Cloud Mario, he gains the power to summon up to three clouds which he can stand on. Unfortunately, these clouds can also be stood on by enemies, and they also disappear after a few seconds... AND another Cloud Flower must be collected in order for Mario to replenish his stash of clouds. On second thought, while useful in theory, perhaps not in practise.
Cloud Mario
Gallery
Navigation Templates
Playable Characters
| Default | Unlockable |
| --- | --- |
| | |
| Alternate Characters | Echo Fighters |
| | |
Assist Characters
| Default | Unlockable | Pokémon |
| --- | --- | --- |
| | | |
Obstacles
Other Characters
Alolan Grimer · Amul · Ann Takamaki · Big Urchin · Blizzy · Bravoman · Buzz-Buzz · Cutiefly · Don-chan · Dragoneel · Fierce Deity · Gil · Happy Mask Salesman · Judge · King · Kissy · K.K. Slider · Litwick · Lloyd · Mappy · Mareanie · Mii · Missile · Morgana · Perry · Pidgit · Pooka · Rabbid Luigi · Rabbid Yoshi · Red Baron · Ribbon · Rowlet · Runner · Ryuji Sakamoto · Sandy · Smasher · Rusty Slugger · Servbot · Sima Zhao · Swanna · Tarosuke · Timmy Nook · Toadsworth · Tommy Nook · Tron Bonne · Valkyrie · Wonder Momo · Ziggy
Collectibles

Trophies

Stickers

Boolossus · Boo Mario · Bowser · Captain Toad · Cat Peach · Chain Chomp · Cloud Mario · Fire Mario · F.L.U.D.D. · Koopa Clown Car · Mario · Penguin Mario · Peach · Propeller Mario · Rock Mario · Toad · Toadette · Waluigi
Birdo · Boo Buddies · Blooper · E. Gadd · Fuzzy · Metal Form · Waluigi · Whomp

Candy Kong · Lord Fredrik

9-Volt

Ball and Chain · Deku Leaf · Majora's Mask · Mipha

Abra · Drifloon · Spinarak

Katrina · Mr. Resetti

Arachnus

Noddy · Prank

Mr. Chicken

Back Shield · Centurion · Eggplant Wizard

Giga Mac · Glass Joe · Little Mac · Von Kaiser

Louie

Lin Lee Koo

Franklin Badge · Negative Man

Apollo Justice · Franziska von Karma · Miles Edgeworth · Larry Butz · Judge · Phoenix Wright

Dr. Wright · Hammer Slam Bowser
Devil · F-Type · Rusty Slugger