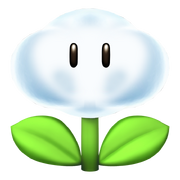 Cloud Flowers are special items which turn Mario into Cloud Mario. They debuted in Super Mario Galaxy 2.
Ability
When Mario is Cloud Mario, he can make three cloud platforms per time. Mario needs to grab more Cloud Flowers a time to re-stock the clouds.
Gallery
Trivia
This is the first flower item in the Super Mario series that doesn't give Mario the power to shoot special balls.
Zephyere likes to eat these.