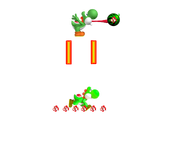 The Clone Melon is a fruit that Yoshi can eat. Once consumed, Yoshi will become Clone Yoshi, a normal Yoshi surrounded by six smaller red Yoshi clones. Clone Yoshi can control these clones, and the clones can protect Clone Yoshi. Once all the clones are defeated, Clone Yoshi reverts to regular Yoshi. If Yoshi arrives the goal the clones will grow up and turn into normal Red Yoshis.
Ad blocker interference detected!
Wikia is a free-to-use site that makes money from advertising. We have a modified experience for viewers using ad blockers

Wikia is not accessible if you've made further modifications. Remove the custom ad blocker rule(s) and the page will load as expected.