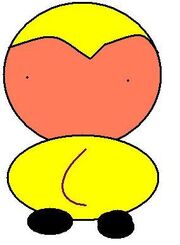 Clone is both a friend and a foe in Pixel Chase. They are mostly made by the King Clone. They can be defeated by slicing their heads off.

Clone is a player in Pixel Chase. He can kick, like regular Clones and he can headbutt. His downside is that he can't jump.
Clones are also foes. They will walk around kicking you.
If you jump on a clone,they will be squished. This is a refrence to the Mario games. They will pop back up though.
Originally, clones looked exactly like Chase.