The Clockwork Sword is the second sword found in the game The Legend of Zelda: Sounds of the Shadows. It is found in Clockwork Tunnels, and is obtained after beating Clockwork and grabbing the pendulum (which is revealed to be the sword). It is twice as powerful as the Ordon Knife.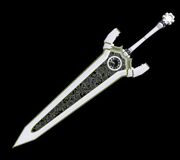 Ad blocker interference detected!
Wikia is a free-to-use site that makes money from advertising. We have a modified experience for viewers using ad blockers

Wikia is not accessible if you've made further modifications. Remove the custom ad blocker rule(s) and the page will load as expected.