Ad blocker interference detected!
Wikia is a free-to-use site that makes money from advertising. We have a modified experience for viewers using ad blockers

Wikia is not accessible if you've made further modifications. Remove the custom ad blocker rule(s) and the page will load as expected.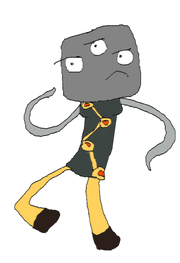 Cinder is a character that appears in Doodleland: Another Story. She is the main character.
Personality
Cinder is a very determined person if she needs to be. She is devoted to her few friends, and is modest about herself and doesn't exaggerate. As a cause of that, she is a terrible liar. Like, real bad. So bad, it's not even funny.
Backstory
Much like Zak, her planet was destroyed by the Dark Scribble. While she is not the last of her race, there is only estimated to be 100 of her kind left.
She landed in a desert where a archelogist named Loni found her.
Abilities
She has amazing jump abilities, as she can spring her legs during mid jump to get extra air. Similar to Zak, her legs extend while doing so.