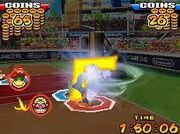 Cheating is an ability exclusive to Waluigi, first appearing in Goomsday Wii and scheduled to appear in many upcoming games.
How to Use
Cheating is activated by pressing the B Button on the Wii and tracing Waluigi's symbol in the air.
Uses
Cheating has many uses all throughout Goomsday Wii. It is almost necessary for every boss battle. The most common use is Waluigi's classic air-swimming.
Trivia
Despite the name, Cheating is a perfectly intended game mechanic.
The name is an homage to Waluigi's reputation as a horrible cheater.