Ad blocker interference detected!
Wikia is a free-to-use site that makes money from advertising. We have a modified experience for viewers using ad blockers

Wikia is not accessible if you've made further modifications. Remove the custom ad blocker rule(s) and the page will load as expected.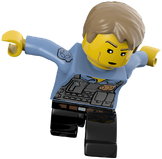 There seems to be a bug in the categories. Please fix the infobox :)Wikiboy10 (talk) 19:55, February 1, 2015 (UTC) Chase McCain is a Newcommer in Super Smash Bros. for DVDS. His moveset is similar to the other game "Lego City Undercover". He is the main character of the series and is a cop.
Entrance
Police Car
A police car drives in, then explodes.
Special Attacks
Neutral B - Grabble Gun
The Grabble Gun, can shoot to many places. It is also a recovery.
Side B -handcuffs
handcuffs, lock the character. They can't move, until punched.
Custom Moveset: Cow
A cow can be ridden, just like Wario's bike.
Up B -Jetpack
The Jetpack can only go up to 4 blocks.
Down B -Drill
The drill behaves, just like it did in "The Lego Movie Video Game".
Final Smash -Arrest
A police car comes, on the road. The final smash is similar to Captain Falcon's.
KOSFX
KOSFX1:
KOSFX2:
Star KOSFX:
Screen KOSFX:
Taunts
Up:
Sd:
Dn:
Victory Options+Failure/Clap
Victory 1:
Victory 2:
Victory 3:
Lose/Clap:
Classic Mode Win/Lose Pose
Congratulations/Game Over Pictures
Character Description
Other Attacks
Ground Attacks
Basic Attacks
AAA Combo- ???
Dash Attack- ???
Tilt Attacks
Side- ???
Up- ???
Down- ???
Smashes
Side- ???
Up- ???
Down- ???
Aerials
N-Air - ???
F-Air - ???
B-Air - ???
U-Air - ???
D-Air - ???
Grabs, Throws
Grab- ???
Pummel- ???
Forward- ???
Back- ???
Up- ???
Down- ???
Others
Ledge attack: ???
100% ledge attack: ???
Front attack: ???
Back attack: ???
Trip attack: ???
Pros & Cons
Pros
Chase's Grabble Gun can be usefull
Drilling on characters are easy.
Cons
Drill will work only for a minute.
Icon
TBA
Victory Music
Lego City Undercover Vitroy
Kirby Hat
Police Hat
Exclusive stickers
TBA
Trophy
Description
TBA
Wiimote Sound
TBA
Classic Mode
TBA
Easter Eggs
TBA
Daily Buglin'
TBA TBA
Role In SSE
TBA
Extra
Colors & Costumes
Trivia