Charmy Bee did not originate from fanon, and more information can be found on their respective wiki(s). You may read more about it on the following wiki(s):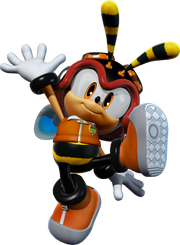 Charmy Bee is a young, childish anthropomorphic bee. He is a member of the Chaotix of the Sonic the Hedgehog (series). He is the youngest canon Sonic character.
Appearances
Charmy makes an appearance in Team Chaotix of Sonic Heroes 2. Here, he has - on his own authority - employed Saffron as a temporary apprentice.
Charmy is a downloadable playable character in Sonic Soccer.
Gallery
Navigation Templates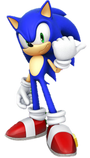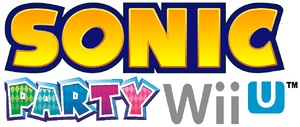 Starter Characters
File:SonicMASATOWG.png
File:TailsMASATOWG.png
File:KnucklesMASATOWG.png


File:VectorMASATOWG.png
Unlockable Characters









Locations
Green Hill | Hydrocity |Mushroom Valley | Ice Cap | Metropolis | Sandopolis | Planet Wisp | Launch Base | Death Egg
Modes
Story Mode | Party Mode | Construction Mode | Options
Bosses
Motobug | Chopper | Mushmeanie | Penguinator | Slicer | Sandworm | Egg Pawn | Metal Sonic | Dr. Eggman
Playable Characters
Base game:







Post-release:








Non-Playable Characters