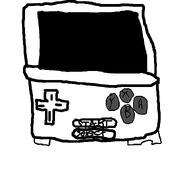 The
Chaos Gioco
(pronounced "Jock-oh") (AKA the Metarugēmu in Japan) is a modern handheld console made by
Metal Chaos Inc.
. It was the first console Metal Chaos Inc. has made. The Chaos Gioco has been released on June 12, 2003.
Design
The Chaos Gioco looks likes a smaller, thicker version of the Nintendo DS but has a few differences.
It can have 3 players play the same game.

2 players use a Chaos Gioco, and the third player uses the Chaos Gioco Controller Pro.

Plays either Chaos Gioco games or Game Boy games.
Has the A, B, X, and Y buttons in the same position as the SNES controller.
No SD card slot on the device.
Trivia
"Gioco" is a word in Italian, meaning "game".
Ad blocker interference detected!
Wikia is a free-to-use site that makes money from advertising. We have a modified experience for viewers using ad blockers

Wikia is not accessible if you've made further modifications. Remove the custom ad blocker rule(s) and the page will load as expected.