Chain Chomp
Comments

3
18,055pages on
this wiki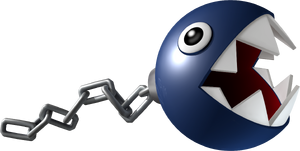 Chain Chomps are huge chained wrecking ball dog-like enemies that try to eat the players. They have appeared in many games and are often tied up and are very hard if not impossible to defeat in many cases. They are often seen as very tough and untamable however in the Dry Dry Ruins they appear to have been very important to the culture of the people of the Dry Dry Kingdom. It has been rumored that Reign Chain Chomp is their leader.
Chain Chomps appear as an item in Super Mario MHL. They are also Items in the Mario Kart series as well.
Head Color Abilites
Edit
The Chain Chomp's head color can greatly affect what a Chain Chomp's power is. Tenth Fiery Boss and the tenth Icy Boss.
Red Chain Chomp
Edit
The red head color gives the Chain Chomp the fire abilty. Once the player is touched by the Chain Chomp, he/she will suffer very severe burns.
Blue Chain Chomp
Edit
Full Article: Blue Chain Chomp
Notable Chain Chomps
Edit