"I'll claw your eyes inside out!"


— Catwoman in Justice: Apocalypse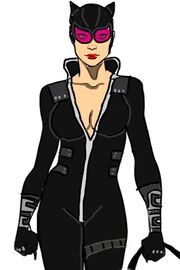 Catwoman is a DC comics villain.
Appearances
Selina Kyle gave up her life of thievery and crime to redeem herself after an accident she caused during Darkseid's invasion. Uncomfortable being with the Justice League's resistance group, Catwoman wanted to take a more merciless approach and joins a different faction along with The Flash.
Trivia
Gallery
Ad blocker interference detected!
Wikia is a free-to-use site that makes money from advertising. We have a modified experience for viewers using ad blockers

Wikia is not accessible if you've made further modifications. Remove the custom ad blocker rule(s) and the page will load as expected.