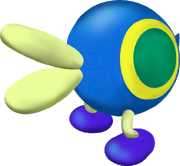 Cataquacks are enemies that appear throughout the
Mario Series
. They first appeared in
Super Mario Sunshine
, and later in
Mario Kart: Double Dash!!
, where they were only seen at Peach Beach. They eventually reappeared in
Super Mario Galaxy
, though not in
Super Mario Galaxy 2
. The latest game they have appeared in is
Mario Kart Wii
in Peach Beach as a Retro Course
Appearances
Catakart
Throughout the Koopa Kart Series, Cataquacks have been apsent. However, they are sceduled to appear in Koopa Kart 3D as heavy weight drivers.

Ad blocker interference detected!
Wikia is a free-to-use site that makes money from advertising. We have a modified experience for viewers using ad blockers

Wikia is not accessible if you've made further modifications. Remove the custom ad blocker rule(s) and the page will load as expected.