Enemies
| Character | Description |
| --- | --- |
| Normal Grandma | Normal Grandma is the weakest of all Grandmas. She will run around and hit people with her roller, aswell as shoot her dentures at you. She spawns alot more during Grandmapocalypse. |
| Farmer Grandma | Farmer Grandma will run around and stab people with her pitchfork, aswell as shoot people with her dentures. She spawns alot more during Grandmapocalypse. |
| Worker Grandma | Worker Grandma is stronger then Normal and Farmer Grandma. She will throw wrenches at you aswell as shoot dentures, faster then Farmer and Normal Grandma. She spawns alot more during Grandmapocalypse. |
| Swirl Tarr | A Tarr that seems to have been effected by the Smile Portal Effect, aswell as messing up the little thing's brain, it made it very hostile. Swirl Tarr attacks by swinging his swirl around and trying to eat you with his deformed mouth. |
Story Mode Bosses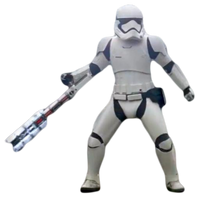 TR-8R
TR-8R, while the first boss, is not one to be taken lightly. He is more of a melee character, not even having one single ranged attack. His attacks will shock characters and stun them, so watch out!
TR-8R can be fought again after Story Mode is finished, and he is extremely strong in his return.
Dungeon Bosses
Ad blocker interference detected!
Wikia is a free-to-use site that makes money from advertising. We have a modified experience for viewers using ad blockers

Wikia is not accessible if you've made further modifications. Remove the custom ad blocker rule(s) and the page will load as expected.