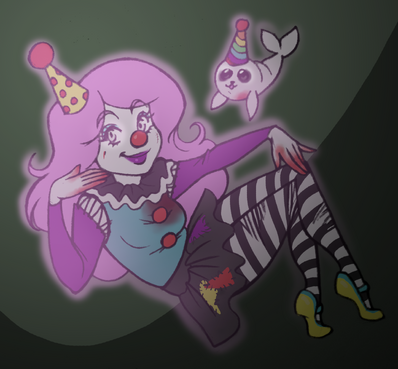 Callisto the Creepy-Cute Clown
is the main character in the 
Circus Camp
 series.She is a 16 year-old clown ghost who haunts the Cranberry Circus after being burnt to death in the blaze.
Personality
Callisto is somewhat layed back and not the most sociable person in the world.She tends to spend her time alone.She gets easily annoyed by Poppy's craziness but also Poppy is her best friend.She can also be very impatient.
Sian constantly attempts to annoy Callisto,which makes Callisto rather snappy at her.Callisto tends to take things with a pinch of salt.
Backstory
Callisto Elizabeth Gurral in life was a 16 year old girl who lived with her twin brother Conner and her Mother,Elisa.It's stated that Callisto's Father,Adrian died while fighting in war.At school,Callisto usually hangs out with her boyfriend,Jack and her two friends,Johnathon and Francis.
When work expiriance came up,Callisto chose to work at Cranberry Circus because she had gained interest in it,since her best friend Lara Bates went missing on a bouncy castle there.Callisto didn't really join the circus because she wanted to work there,she only joined to search for any clues about what had happened to Lara those many years a go.
On the last night of her work expiriance,that is when Kaitlyn Brown showed up and accidently set the circus tent alight.Callisto tripped over and broke her left ankle while running away from the blaze and then the fire burnt her to death.
Gallery
Trivia
The main piece of artwork is by Deviantart user,DearyEm who kindly made a redesign of Callisto.
Ghostkiss (originally Snowkiss,when alive) the seal is considered Callisto pet because when she joined Cranberry Circus,they had an immediate bond.
Her 3DS artwork is by Slothydoll.
Ad blocker interference detected!
Wikia is a free-to-use site that makes money from advertising. We have a modified experience for viewers using ad blockers

Wikia is not accessible if you've made further modifications. Remove the custom ad blocker rule(s) and the page will load as expected.