Buzzigigas is a hybrid monster who is created from
Buzz Lightyear
and
Regigigas
after they are both defeated by
Mudkeep
.
Appearance
Buzzigigas is a deity (large for Mudkeep characters' size) created by Buzz Lightyear's legs with Regigigas' arm sleeve and right arm. As it is only limbs, it can only attack with kicks and punches. The arm does the hitting whilst the legs do the running.
Appearances
Mudkeep disposed of Buzz Lightyear and Regigigas' bodies after defeating them both and together in Stilioseland.
It is (somehow) brought back to life and fights back in Attempt.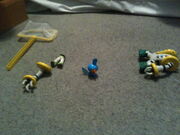 They had the ability to (somehow) shred Mudkeep in Shred. The two first appeeared together in Pounce, but were created in Carry.