The
Bunny Flash
is the machine driven by the young and dedicated militant:
Lily Flyer
. This machine was originally a land-based fighter ship used by the Galactic Space Forces, but was promptly modified to meet F-Zero racing standards for the purpose of effectively assisting Lily in the continuation of her training. This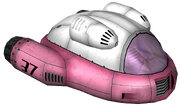 fact is made rather apparent thanks to the Bunny Flash's unique body structure, with two retired laser cannons mounted just above the cockpit and a smaller-than-average chassis size meant for easily outmaneuvering larger attack ships. As such, this machine was made for control, but suffers in the strength department due to it's small size.
Statistics
Appearances
The Bunny Flash makes several appearances in the game. It appears as a trophy along with its pilot, Lily Flyer. In addition, the machine can be seen racing on Mute City.
The Bunny Flash returns once again in F-Zero U, and along with multiple other AX machines has been heavily modified to improve the machine's flaws from F-Zero GX, and F-Zero AX.
Ad blocker interference detected!
Wikia is a free-to-use site that makes money from advertising. We have a modified experience for viewers using ad blockers

Wikia is not accessible if you've made further modifications. Remove the custom ad blocker rule(s) and the page will load as expected.