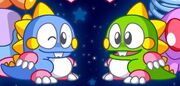 Bublunn is a playable character in CSB. He is VERY LOW in HP, almost a one hit point wonder, but has great attack.
Special attacks
Bubble Bobblin' (This makes him have every ability in bubble bobble he had.)
FINAL SMASH: Elementals (Fire (platform weapon), Electric (Bullet), Music (Homing shot) and Water ( bubbles flow down homing towards bub, creating havoc. All havoc clears after 5 seconds except for bullets whihc electric move off screen but music last 30 seconds. All bubbles act like they do in bubble symphony.)
Ad blocker interference detected!
Wikia is a free-to-use site that makes money from advertising. We have a modified experience for viewers using ad blockers

Wikia is not accessible if you've made further modifications. Remove the custom ad blocker rule(s) and the page will load as expected.