Ad blocker interference detected!
Wikia is a free-to-use site that makes money from advertising. We have a modified experience for viewers using ad blockers

Wikia is not accessible if you've made further modifications. Remove the custom ad blocker rule(s) and the page will load as expected.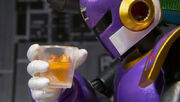 Broken Vile is a band in DUBsoul that holds concerts on Saturdays they mostly cover songs and rarely compose their own songs. They use Vile from Megaman X as their logo and mascot usually depressed or drunk
Members
Singers: Kyo Prower & Ryuk V Hellsing
Guitarist: Ryuk V Hellising
Bassist: Erikaka
Drummer: Tomako Prower
Keyboard: Kyo Prower
Song List
Reset: Aya Ishihara
Crawls like a worm from a bird: The used
Trivia
Their warm up/ opening is a metal version of the rival battle theme from Pokemon Gold, Silver, Crystal.