Ad blocker interference detected!
Wikia is a free-to-use site that makes money from advertising. We have a modified experience for viewers using ad blockers

Wikia is not accessible if you've made further modifications. Remove the custom ad blocker rule(s) and the page will load as expected.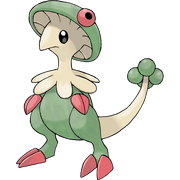 Breloom the Mushroom Pokémon is a Grass/Fighting Pokémon that looks similar to some sort of fungus.A Breloom is very agile and has strong legs and claws. A seed cluster is located on its brawny tail that releases toxic, inedible spores that can cause many status ailments, such as paralysis, hypnosis, and poisoning. Shroomish's evolve into Brelooms once their level is 23.