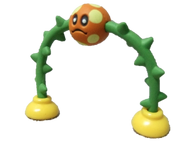 Bramball is a enemy to Mario. They make their debut in New Super Mario Bros. Wii. In "Mario and Bowser 2 War!"  Bramballs guard Daisy's garden along with Pirhana Plants. They trap Wario in a hidden tunnel guarded by a secret tube.
In the games
Bramball is a playable character in this party game.
He is a unlockable character in this game.
A Bramball appears as a playable default character in this game.