The Bowser Valley Soldiers are a professional FHL team founded by Lemmykoopa24 (t∣b∣c). It is the founding team of the FHL. Their logo consists of a green soldier with a purple silhouette. The Soldier jersey is green, purple, and black.
Players
Neo Koopa - Center. Team Captain.
Korey - Forward. Secondary Captain.
Harley B. Koopa - Defenseman.
Battle Skull - Defenseman.
Tommy the Penguin - Defenseman.
Stadium
The Omega Hockey Centre. Cap. 7877
Logo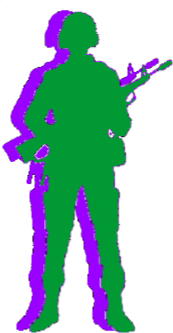 Ad blocker interference detected!
Wikia is a free-to-use site that makes money from advertising. We have a modified experience for viewers using ad blockers

Wikia is not accessible if you've made further modifications. Remove the custom ad blocker rule(s) and the page will load as expected.