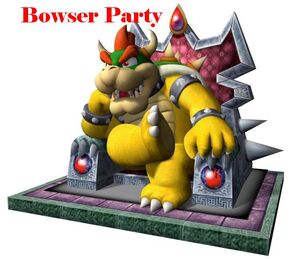 Bowser Party is a
Mario Party
game for
Wii
.
Playable Characters
Non-playable
Boards
Candy
Pit Candy
More to come.
Mini Games
8-players
Rolling Balls
Dice ? Blocks
Bowser's Balloon Bash
The Lockers 4everyone
4-players
Bowser Pop
Mecha March
Double Pound
Spark Scarmbled
Down the Hills
4 vs 4
Frog Hop Run
Choke The Folks
Four- Square
Mad Lad
Make Magic Tragic
Draw A Law
2 vs 2
Volleyball
Soccer
Basketball
Broozer Loser
Doom Slide
1 vs 3
Spike Down
Battle down
Looking Out
Bowser's Bomb Explodes
Ice Skating
Bowser's Rocket Blastoff
Battle force
Goomba Blowing
Spike Jumpers
Balloon of Doom
Battle
Castle Clearout
Shell Soccer
Boom Boom Escape
Pom Pom Run Race
Duel
Rolling Blocks
? Ball
Bowser's Balloon Pop
Treasure Island
Cash N' Bash
Mecha Choice
Goomba Pop
Finale
Ad blocker interference detected!
Wikia is a free-to-use site that makes money from advertising. We have a modified experience for viewers using ad blockers

Wikia is not accessible if you've made further modifications. Remove the custom ad blocker rule(s) and the page will load as expected.