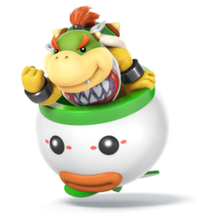 Bowser Jr. is an unlockable character in Super Smash Bros. Endgame. He is the son of Bowser and is a secondary antagonist in some Mario games. He appears in Super Mario Sunshine, where he disguises himself as Mario.
Appearance
TBA
On-Screen Appearances
TBA
Moves
TBA
Taunt(s)
TBA
Victory Pose(s)
TBA
Victory Theme(s)
TBA
Alternate Costume(s)
Gallery
Trivia
TBA
Ad blocker interference detected!
Wikia is a free-to-use site that makes money from advertising. We have a modified experience for viewers using ad blockers

Wikia is not accessible if you've made further modifications. Remove the custom ad blocker rule(s) and the page will load as expected.