Bowser Jr. did not originate from fanon, and more information can be found on their respective wiki(s). You may read more about it on the following wiki(s):
Bowser Jr.

Bowser Jr. riding his clown copter

Full Name
Prince Bowser Koopa Jr.
Current Age
9
Date of Birth
October 9, 2002
Gender
Male
Species
Koopa
Location
Mushroom Kingdom
Current Status
Alive
Class
Main Villain
Dark Prince
Family and Relations
Bowser (father),
Shigeru Miyamoto (mother)
Broser (brother)
Koopalings (brothers and sister)
Likes
Cookies, Nintendo Switch, Painting
Dislikes
Believing when Princess Peach isn't his "mother",Getting defeated by Mario, When his Nintendo Switch is suspended.
Main Weapon(s)
Paint Brush, Junior Clown Car
Sexuality
Male
Enemies and Rivals
Mario
Alias(es)
Prince of the Koopas (Super Smash Bros. for Wii U)
Voice Actor(s)
Caety Sagoian (2007-present)
Hair color
Orange
First Appearance
Super Mario Sunshine (2002)
Latest Appearance
Mario Kart 8 Deluxe (2017)
"

I always knew that stupid koopa wouldn't stay in the koopa troop for long. He's almost as annoying as that

plumber

in Peach's Castle!

"

— Bowser Jr., Kenny Koopa: The Original Saga
Bowser Koopa Junior, usually shortened to Bowser Jr., is one of the 8 canon (and 28 fanon) Koopalings, and is current heir to the Koopa throne. Bowser Jr. is Bowser's favorite son. Bowser Jr. was originally tricked by his father into believing that Peach was his mom, and Mario was an evil kidnapper. In fact, Mario wasn't the kidnapper; he was trying to rescue Peach. However, after being beaten by Mario, Bowser Jr. confessed that he knew Peach wasn't his mother all along. Regardless, Bowser Jr. shares the same ambitions as his Dad, defeat Mario once and for all. Bowser Jr. has never been in a game without his father. Over the past few years, he has become more and more important in the Super Mario series.
Appearances
Bowser Jr.'s Stats
Location
Bowser's Castle
HP
500
Power
Defense
450
Koopa Points
1000
Coins
Items
"

Bowser Jr. was always suspicious of

Kenny Koopa

's ways: The way he controlled the Koopa Troop, and the way he always spared his enemies. Now he's going to face his rival soon.

"

— In-game description
. Bowser Jr. appears as the main antagonist of Kenny Koopa: The Original Saga.
Bowser Jr. will be appearing as an enemy character in Super Mario Bros.: Pokémon Odyssey. Ironically, his father will be playable hero character, so as to why Bowser Jr. is an enemy character, while his dad is a hero character, is unknown. It is still unknown what his exact role is.
Bowser Jr is a player on the Bowser Villains team on the multiplayer Wii sports game Mario Rugby League. He is a strong character, he has average speed and skill. His special skill is to shoot fire balls out of his mouth for an extended tackle.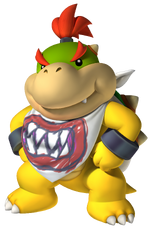 Bowser Jr makes his debut in the Mario Singalong! series in Mario Singalong Rocks!. To unlock him you have to complete Story Mode once. He returns in Mario Singalong Down Under! and Mario Singalong Legends!, where in both you must also complete the Story Mode to unlock him.
Bowser Jr. appears as a default playable character in Super Duper Smash Bros..
Bowser Jr. appears as a second-player character in Goomsday Wii, wielding his Magic Paintbrush as a weapon. He seeks to regain the Koopa throne for his father, but cannot face the power of Goomboss alone. He is thus forced to team up with Waluigi and Shadow Mario. His Paint is an extremely useful mechanic in the game, being able to form bridges, ladders, restraints, and even disguises.
Bowser Jr. is the first boss of Super Mario World 3: A Galaxy Quest, he appears in his Koopa Clown Car, he also appears in Shadow Mario's disguise in the Onefarious planet.
Bowser Jr. appears as a default playable character in the racing game Bowser's Castle Racing.
Stats
Weight: 31%
Driving Skill: 58%
Item Power: 45%
Speed: 81%
He is overworked here, appearing the most out of all bosses, but not necessarily the toughest in his first boss fights. He is mostly seen teamed up with Alex, but can also work with the other Koopalings, considering he issues orders and is the only one who needs to be taken down in some of the all Koopaling fights. His attack pattern depends on whether he is fighting alone without his Clown Car or the other scenario's. With his Clown Car he tosses Bob-Ombs and tries to ram the player, but without the car he jumps, runs, and breathes fireballs. In the all Koopaling fights, he doesn't fight, but actually gives orders.
Bowser Jr. reappears in this game as the boss of Bowser Jr.'s Bomb Blow Castle, in World 8: Valley of Despair.
Bowser Jr. is a Captain in Bowser Super Sluggers. He has good Bat and speed.
Bowser Jr. makes an appearance in
Mario & Luigi: The Cosmic Duo
. In the game, he acts as the tutorial boss, and attacks using weak fireballs.
Bowser Jr. is the main character in the game Bowser Jr. Party: Bowser's Revenge.
Bowser Jr. has been announced to be an unlockable newcomer in Super Smash Bros. Brutal Duel. His attacks uses his paintbrush and fire for some attcks! He can also transform into Shadow Mario by doing his Down Special. All of Shadow Mario's attacks uses his paintbrush.
B: Fire Spit
B Side: Paintbrush
B Up: Shell Spin
B Down: Transform
Final Smash: Koopa Clown Car
Bowser Jr. retains his antagonist role in Super Mario Galaxy, Super Mario Galaxy 2, and Super Mario Sunshine. He's also going to be included in the Super Wario 3D World DLC pack, replacing Toad.
Bowser Jr. is a featured Warrior in Super Mario Warriors. His weapon is the Clown Car and makes use of the Lightning element. He also has an unlockable secondary weapon in the form of the Darkness-elemental Paintbrush, which lets attack his foes with paint and transform into Shadow Mario.
Bowser Jr. appears in Mario Hoops 3-On-3 Switch as a playable character. He is a Speedy character type and his special move is Clown Cart Shot. He is a starter character. His default partner is Bowser. His team name is the Bowser Jr. Shells.
amiibo
| | | |
| --- | --- | --- |
| | An amiibo figure of Bowser Jr. exists! For more info about this amiibo, see this page. | |
Gallery
Navigation Templates
Playable Characters
| Default | Unlockable |
| --- | --- |
| | |
| Alternate Characters | Echo Fighters |
| | |
Assist Characters
| Default | Unlockable | Pokémon |
| --- | --- | --- |
| | | |
Obstacles
Other Characters
Alolan Grimer · Amul · Ann Takamaki · Big Urchin · Blizzy · Bravoman · Buzz-Buzz · Cutiefly · Don-chan · Dragoneel · Fierce Deity · Gil · Happy Mask Salesman · Judge · King · Kissy · K.K. Slider · Litwick · Lloyd · Mappy · Mareanie · Mii · Missile · Morgana · Perry · Pidgit · Pooka · Rabbid Luigi · Rabbid Yoshi · Red Baron · Ribbon · Rowlet · Runner · Ryuji Sakamoto · Sandy · Smasher · Rusty Slugger · Servbot · Sima Zhao · Swanna · Tarosuke · Timmy Nook · Toadsworth · Tommy Nook · Tron Bonne · Valkyrie · Wonder Momo · Ziggy
Collectibles

Trophies

Stickers

Boolossus · Boo Mario · Bowser · Captain Toad · Cat Peach · Chain Chomp · Cloud Mario · Fire Mario · F.L.U.D.D. · Koopa Clown Car · Mega Mushroom · Mario · Penguin Mario · Peach · Propeller Mario · Rock Mario · Toad · Toadette · Waluigi
Birdo · Boo Buddies · Blooper · E. Gadd · Fuzzy · Metal Form · Waluigi · Whomp

Candy Kong · Lord Fredrik

9-Volt · Fauster

Ball and Chain · Deku Leaf · Majora's Mask · Mipha

Abra · Drifloon · Spinarak

Katrina · Mr. Resetti

Adam Malkovich · Arachnus

Nightmare · Noddy · Prank

Mr. Chicken

Back Shield · Centurion · Eggplant Wizard

Disco Kid · Doc Louis · Donkey Kong · Giga Mac · Glass Joe · King Hippo · Little Mac · Von Kaiser

Blue Falcon · Captain Falcon · Pico · Rick Wheeler · Wild Goose

Louie

Pyra

Franklin Badge · Negative Man

Apollo Justice · Franziska von Karma · Miles Edgeworth · Larry Butz · Judge · Phoenix Wright

Dr. Wright · Hammer Slam Bowser
Devil · Dr. Wright · F-Type · Rusty Slugger · Zethia