Bowser Domain is a default stadium in the game Mario Rugby. It is home to Bowser.
Description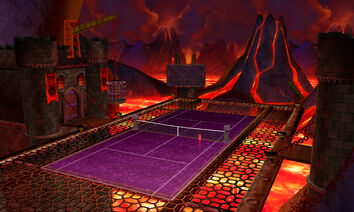 Bowser's Domain is a stone court and bears a strong resemblence to Bowser's Castle from Mario Tennis Open. The stadium is situated above a huge pit of lava, which accounts for all the Podoboo's that jump up between the wiring. Also, there are Thwomp's, which appear on the course, that flatten the player. The seating around the stadium is full of Bowser's Minions.
Ad blocker interference detected!
Wikia is a free-to-use site that makes money from advertising. We have a modified experience for viewers using ad blockers

Wikia is not accessible if you've made further modifications. Remove the custom ad blocker rule(s) and the page will load as expected.