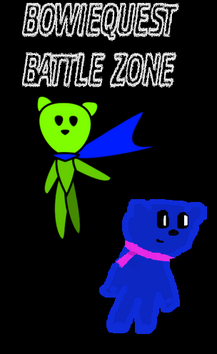 BowieQuest: Battle Zone is a non-canon fighting game in the BowieQuest franchise, created by ElectricMayhem. It is a spin-off of the main series, and made for Crimson the Fandraxono's weekly challenge. It features many characters from the BowieQuest series.
Modes
TOURNAMENT MODE - You fight against a randomly decided bracket until you get to the final boss, Endal the Monkey.
VERSUS MODE - A mode where you choose your fighter, stage, and enemy, and can even do two-player with it.
Characters
Default
BOWIE THE TEDDY BEAR
ASHE THE TEDDY BEAR
FLARE
WINDI
DRYLE
SABEUXO
Unlockable
ENDAL - Unlocked by beating tournament mode once
Stages
Western Forest
Troubling Ascend
Fortress Lifts
Clocktower RuinS
Savast's Ruins
White River
Endal's Headquarter