Bouldergeist
Comments

4
18,083pages on
this wiki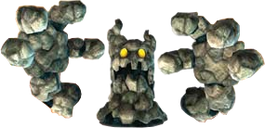 Bouldergeist is one of the many bosses found in the Mario series. Its true form is a black ghost head. It has a rocky armor to protect itself.
Appearances
Edit
Bouldergeist's first appearance was in Super Mario Galaxy. He then reapper in Super Mario Adventures II. He was one of the main bosses of the game, and was battled in the Luigi's Mansion level.
Bouldergeist Planet
Edit
In Bouldergeist's arena you can battle with it and use Bomb Boo to defeat it.
To the Galaxies
Edit
Bouldergeist will appear as a boss in RedYoshi's Universal Conquest. This will be the third game it has appeared in that takes place in space.
Bouldergeist reappears in this game as the boss of Boulder Drop Tower, in World 7: Great Stone Mountains