Bottle Ship is a massive, decommissioned space facility in a remote part of space. It belongs to the Metroid series and has appeared only in Metroid Other M. It is a medium sized stage in Super Smash Bros. Global Apocalypse. It is the only stage in representation of the Metroid universe.
Description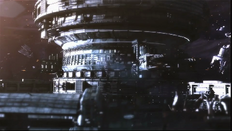 | | |
| --- | --- |
| Universe | Metroid |
| Home Stage to | Samus/Zero Suit Samus, Ridley |
| Availability | Starter |
| Size | Medium |
The Bottle ship is a massive, decommissioned space facility, and the main location of Metroid Other M. Inside of it, it features multiple ecosystems. Players fight on the exterior part of the spaceship, as seen in the picture above. The stage is medium-sized and features a long metal platform which covers the entire screen. In the middle, the stage is nearly destroyed, with multiple metal parts floating at the vast space. Sometimes, metal parts will fall on the stage, completely destroying the centre of the stage, forcing the players not to battle in the middle. The stage also consists of other smaller platforms where the players can battle, as well as pass through. The background features the sunlight on the left and a huge control tower, as seen in the picture.
Music Played
Ad blocker interference detected!
Wikia is a free-to-use site that makes money from advertising. We have a modified experience for viewers using ad blockers

Wikia is not accessible if you've made further modifications. Remove the custom ad blocker rule(s) and the page will load as expected.