Boss Galaga

Two Boss Galagas as seen in SSB4

Item Type
Weapon Item
Kind of Item
Galaga spaceship
First Appearance
Galaga, 1981
Latest Appearance
SSB4 Wii U, 2014
Effect
Uses a tractor beam in an attempt to entrap fighters. If it succeeds, it will carry the fighter past the upper blast line, instantly defeating him.
Related Items
Beetle
Boss Galaga is an item apperaing in SSB4. Originating from the Namco/Midway arcade game Galaga as an enemy, the Boss Galaga item in the game behaves just its original version.
History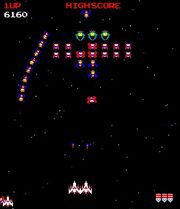 The Boss Galaga enemy, then known simply as Galaga, first appeared in the arcade title Galaga. In that game, it was the most powerful of the enemy fighters. In addition toshooting lasers, it posseses a tractor beam that can catch the player's starfighter. If it succeeds, it will capture the ship, and the player will lose a life. At that point, If the player still has another ship, it is possible to recover the lost ship by shooting down Galaga with another starfighter. Doing so will free the original ship, allowing the two to combine. The new dual starfighter can fire two lasers at once, and can take two hits instead of one.
Appearances
Super Smash Bros. 4
In SSB4 Boss Galaga behaves very similarly to its previous incarnations. When thrown, Galaga will fly to the top of the screen, hover momentarily, then dive at an enemy fighter and activate its tractor beam; this attack cannot be blocked and must be avoided. If it manages to catch a fighter, it will attempt to carry them offscreen. Unless the fighter mashes out of its grip, or a teammate destroys the ship it drag them past the upper blastline for an instant KO.
Boss Galaga can be weakened while it is active- as it takes damagge, it turns purple, and eventually breaks. The item can even be destroyed in its dormant state before it is thrown. Boss Galaga is similar to the Beetle item appearing in the same game. Both items grab opponents and carry them offscreen. While Galaga homes in on its target, and moves in an erratic pattern once it does, the Beetle moves in a straight line and carries fighters straight up.
Gallery