Ad blocker interference detected!
Wikia is a free-to-use site that makes money from advertising. We have a modified experience for viewers using ad blockers

Wikia is not accessible if you've made further modifications. Remove the custom ad blocker rule(s) and the page will load as expected.
Booigi's Adventure is the first game in the Booigi Series and is supposed to come in late 2012. It will be published by Fantendo.

Plot
Dark Booigi is the main enemy of Booigi in this game. Booigi goes looking for his girlfriend, Boolia, in the Haunted Worlds. He meets a purple boo named Dark Booigi and suspects he has Boolia. He goes into the Haunted Mansion realizing that King Boo has been trapped also. Booigi must avoid the Goosts, the evil ghosts who throw multi-colored goo.
Characters
Playble
Booigi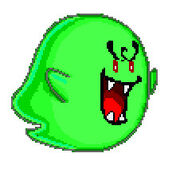 The main character (and actually the only character) in the game. He is great friends with Luigi and has a girlfriend named Boolia. He has made a small appearance in
Futuristic Mario Party 2
as an unlockable player. He can also be played by Player 4 in
Spectacular Mario.
Some people think he will also make an appearance in
Luigi X , Amazing Mario
, and
Super Spy Mario.
He is also in
Mario Kart: Quadrouple Quadrant
in the Ghostly 4 Kart.
NPCs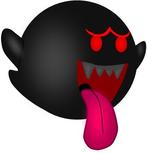 Boolia
The girlfriend (and actually the only known friend) of Booigi. She does lots of tomghost stuff like scaring and haunting. Rumor has it she will also be in Luigi X and Super Spy Mario. She loves her tongue- she can't live without it! She may also make a small appearance in Mario Kart: Quadrouple Quadrant possibly in the Ghostly 4 Kart.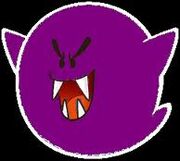 Dark Booigi
The worst enemy and main villain (and only current villain) in the Booigi Series. The little brother of Storm, the wild supervillain of the Scario Series. They also have a sister, but nobody knows her name except the two brothers and herself. Unlike her brothers, she is good. Dark Booigi likes to go around saying he never had a sister because she is good.