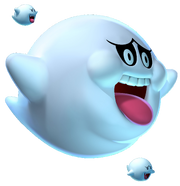 Boohemoth is a Giant Boo who first appears in New Super Mario Bros. 2. They appear in Ghost Houses. They mainly act like Boos but, if Mario looks at them to long they will peak out and slowly move towards Mario.
Game Appearances
Boohemoth appears as an unlockable character in this game.
Boohemoth appears as a boss in this game, he is the boss of the Boohisis planet, he's weakness is Draglet Mario.
Boohemoth appears as the boss of the fortress of World 9: Poison Soda Swamp.
Gallery
Trivia
Boohemoth is a play on words of Boo and behemoth, which means great monster.