Boo TV is a TV channel for Boo's and other people. It was founded by King Boo. It can be seen on Channel 28.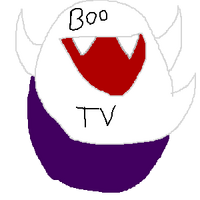 TV Shows
These are shows on the channel
Boo Sumo Wrestling
In this show, many boos try to win in a sumo match against King Boo. It is on everyday at 5:30 P.M. It is rated G.
Invention Boo
A parody of Invention USA, two Boos go on a hunt across the Mushroom Kingdom for an awesome invention made from a boo.
Appearances
Creation
A few years before the events of this game, the Boos acquired a contract for a television network. They named it the Boo Television Network, or Boo TV for short.
Present Day
When Wario came to the Boo Castle in the search for the War Mage Sword, he was challenged by King Boo to beat him in a sumo match. After the battle, Wario came victorious and won the sword.