Boo Mansion is an unlockable stadium in the game Mario Rugby. It is home to King Boo and can be unlocked by winning 20 exhibition games.
Description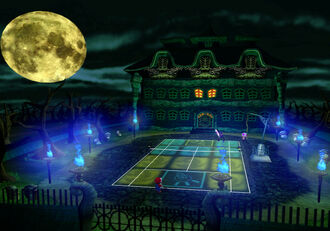 The Stadium is a carpet type and is haunted by many Boo's. The stadium is lit by candle-light and is surrounded by Luigi's Mansion and many dead trees. The stadium is infested with Boo's, who steal the ball and pass it too the opposing team. Also, many Boo's watch from the stands.
Mario Party 10
Boo Mansion is a battle stage from Mario Party 10. It takes place in Boo's Mansion from Luigi's Mansion (GC). Players battle in a series of rooms and yards. Players race from room to room chasing boo, who has the chance for players to either gain a star or steal a star.