Ad blocker interference detected!
Wikia is a free-to-use site that makes money from advertising. We have a modified experience for viewers using ad blockers

Wikia is not accessible if you've made further modifications. Remove the custom ad blocker rule(s) and the page will load as expected.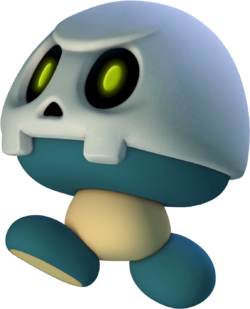 Bone Goombas
, also known as
Dry Goombas
and
Undead Goombas
, are a
Gloomba
-like subspecies of
Goomba
 that wears skull hats. They debuted in
New Super Mario Bros. 2
, usually appearing in Ghost House and Tower levels.
Appearances
They appear in castles and fortresses. They are dead Goombas that can be killed with jumping over them. They sometimes appear in the Ghost Houses and levels with Boos.
In this game, they appear in some circuits as enemies of the course. They appear in Bowser Castle, into the castle. They make the same effect that Goombas but they can be disappeared if the racers throw iceballs or frozen Shells.
They appear as enemies. Hp-6, Attack-3 and Defense-3, though a hammer turns them into Gloombas, same stats except no defense.
Gallery