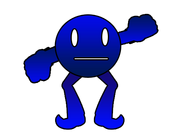 "Well, the cat scares me, but you guys? Man! Chesire is one! Fat! Liar! Maybe I should let you through..."


— Blues, Flip The Frog: Cobra Chaos
Blues, or Neutral is a blue-sphere like creature. He, along with Maroon, Greeny, and Biege, is one of the four mood guards who guard Chesire's Castle in the Flip The Frog Series. His mood is "Normal" which is a common human emotion.
Ad blocker interference detected!
Wikia is a free-to-use site that makes money from advertising. We have a modified experience for viewers using ad blockers

Wikia is not accessible if you've made further modifications. Remove the custom ad blocker rule(s) and the page will load as expected.