Ad blocker interference detected!
Wikia is a free-to-use site that makes money from advertising. We have a modified experience for viewers using ad blockers

Wikia is not accessible if you've made further modifications. Remove the custom ad blocker rule(s) and the page will load as expected.
Blue Kirby is one of the main antagonosts in The Air Ride Series.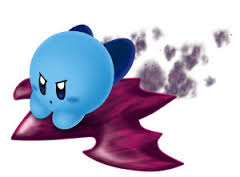 About
Blue Kirby always decides to take a Hydra Piece from White Kirby, which pisses off White Kirby. White Kirby then quick spin attacks Blue for the piece, and kills his star. Blue Kirby's best friend is Yellow Kirby.
Unlike Yellow, who swoops in and takes a Patch from the others, Blue keeps his approch to the Red Box containing the piece hidden. Blue knows which locations have pieces in red boxes. (Though in Comic 9, Check Everywhere, Blue does not seem to know the pieces are in the Garden of the Sky.)
Friends
Yellow Kirby
Shadow Star (Though the Shadow Star hates him the most out of every Kirby)
Rivals
Red Kirby
Green Kirby
Purple Kirby
Brown Kirby
Pink Kirby
Kirby
Dyna Blade
Enemies
White Kirby
External Links