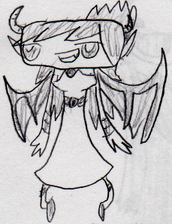 Blood Angels are a sub-species of Angels that can be either created by a potion or an angel mating with a demon. They differentiate from Angels due to the fact they can't contract angel or demon illnesses. They also have small horns that are similar to demons, but are not the same due to their lined pattern. They have black wings and typically have black hair, although blue hair and red hair is some-what common too. They also have large, pointed ears.
Abilities
Blood Angels have the ability to freely go to the Demon Realm, although they cannot go to the Angel Realm. They can also mask their disguise. Some Blood Angels know Dark Magic and Synthesis.
Vulnerabilities
Blood Angels have the weakness of Unicorn Blood. This is their only weakness that is known. They are also super-OCD, having to fix everything they find out of place.
They cannot contract any known illnesses.
Gallery